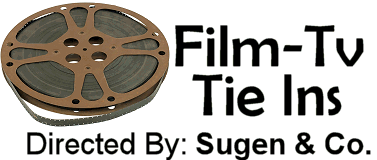 We have been dealing in out of print books via Mail Order since the late 1980's, mainly by regular Printed Catalogues and specialist stock sheets. We have been selling on the Internet for many years. We deal exclusively by Mail Order.
We specialise in Film and Television tie-in paperbacks - both U.K. and U.S. editions, we also carry many film and TV star Biographies and Autobiographies together with a selection of film reference books.
SEARCH and BROWSE
The SEARCH BOX - top left - will allow an exact title search, e.g. "Murder on the Orient Express" or a broad sweep, e.g. "Murder", the latter will of course bring up ALL book titles with the word "Murder" in.
The BROWSE function uses the CATEGORY system, this is ideal for looking up ALL titles available in a certain area, for example if you are interested in "EMMERADALE FARM" they are all listed together in one section. With, say, the "GENERAL FILMS" browsing can be very laborious due to the sheer number of General Film tie-ins, however this Category is subdivided into films beginning with individual letters (or small groups of letters), this system is also used for SF/Horror & Fantasy and general Television tie-ins as well.
The main sections are:-
SF/HORROR & FANTASY
CULT TV TIE-INS
GENERAL FILMS
TELEVISION TIE-INS
AUTOBIOGRAPHIES & BIOGRAPHIES
Each of these is further subdivided into a sub-listing by letter within the main heading. For example "CLOSE ENCOUNTERS OF THE THIRD KIND - FOTONOVEL" would be under "SF/HORROR & FANTASY" and also under "SF/HORROR & FANTASY - C".
Please Note:- The actual FILM/TV programme TITLE or Star's NAME is in BOLD and when BROWSING the Film or TV programme title appears first.
Due to the large number of titles relating to such series as DOCTOR WHO, STAR TREK, BABYLON 5 and STAR WARS they have their own Category, as do some TV "Soaps" such as EASTENDERS and EMMERDALE FARM, although of course titles will show up individually in the above SEARCH BOX.
Please see "

FAQ

" section for details on our GRADING GUIDE, ABBREVIATIONS USED and POSTAGE METHOD overview.
HOW TO BUY:

- either use the built in "Shopping Cart" or email us direct on 

[email protected]
CREDIT CARD purchases are done via PayPal - you don't need a PayPal account to use the PayPal Credit Card option. Just choose "Credit Card" as the "Payment Method" during the Checkout process.
Mail Order Only
Please Note:- Any book cover photographs are of the actual book and are not "stock" or publisher supplied photos.